How Does Sin Deceive?
But exhort one another every day, as long as it is called "today," that none of you may be hardened by the deceitfulness of sin. Hebrews 3:13 (ESV)
Siegfried and Roy made careers out of performing with their white tigers for the entertainment of Las Vegas tourists. And they were unique in that these were dangerous wild animals, and the audience wasn't separated from these big cats. They performed thousands of times with 1500 people in the audience without incident until a show in 2003 when Roy was mauled and carried off stage by one of the tigers. He never performed again. You can treat tigers like pets, and they certainly did have amazing success with them for decades, but they were still wild animals. Watching the show an audience member could probably have believed that they were just big, impressive house pets. But they were not.
Sin is like that wild tiger.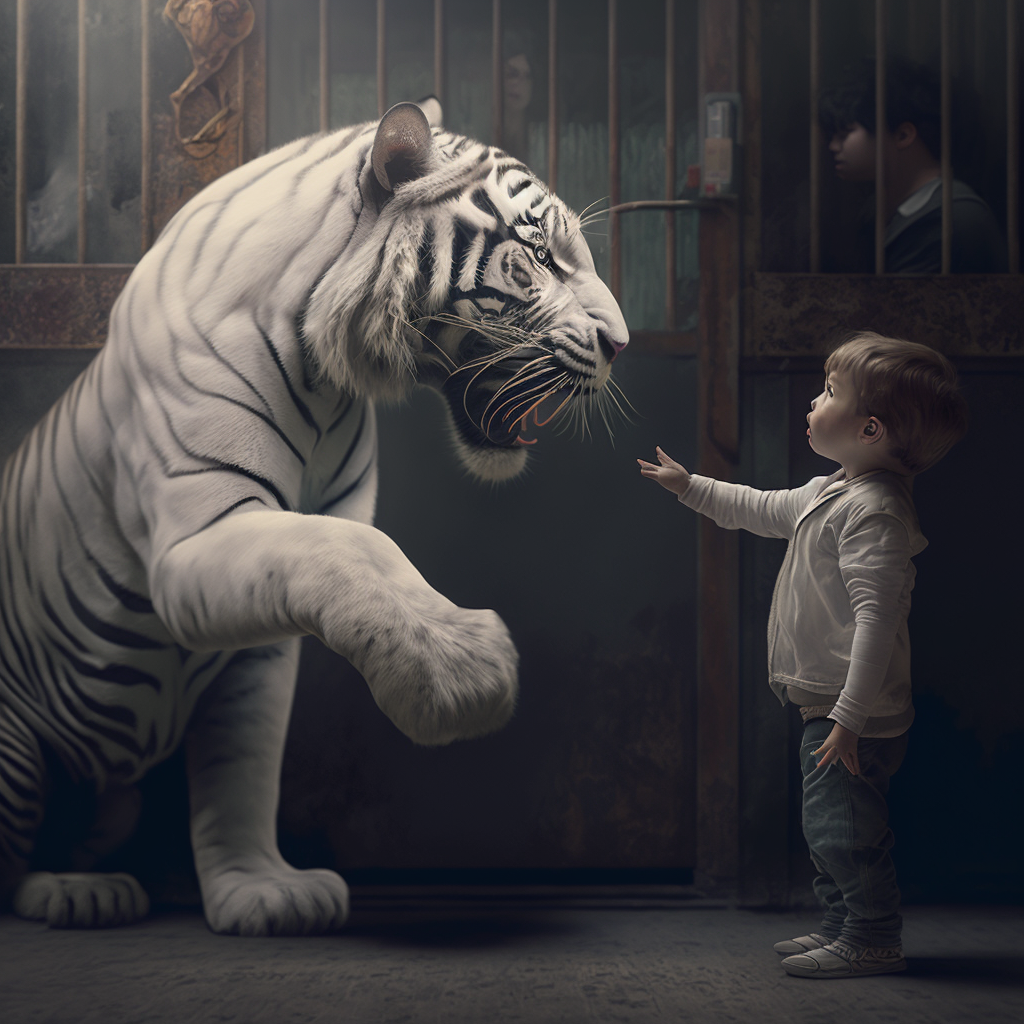 I was counseling a man once, and I spent some time in Hebrews 3:13 talking about how our sin deceives us. We need other believers to help us see what we cannot see. He asked why I thought to talk on this, and I told him it's because his sin deceives him (and my sin deceives me). It's a regular occurrence for us, and realizing it helps unmask it.
What makes sin's deception worse is you also conspire with your sin. Your sin is not some outside enemy trying to breach the walls of your heart. It's in your heart, and you like to live in darkness. We are natural-born hiders. We love having a reputation that we don't deserve. We love pretending we're something we are not. So your sin deceives you, but it often has a willing accomplice in you.
So how does our sin deceive us? The author of Hebrews claims it does and that we need other Christians to help us see it. In fact, we need their intervention on a daily basis. But what does that deception look like? Hebrews 3:13 doesn't get specific, but I believe there are several ways that sin deceives us.
Your Sin Deceives You About Its Existence
You sin in ways that you don't even know. There are things that are sin in your life, but you don't know they are there yet. We've probably all had this experience when reading God's Word or hearing a sermon in church—our eyes are opened by the Holy Spirit to a sin that we never saw before. It reminds me of Psalm 19.
Who can discern his errors? Declare me innocent from hidden faults. Psalm 19:12 (ESV)
We have hidden faults that are hidden from us. Sin is happy to hide in plain sight in our lives. It's happy to hide in the dark in our lives. Sin just loves to hide and make us believe that it's not there at all.
Your Sin Deceives You About Its Extent
Sin lies to you. Even when you see your sin, your sin is working to deceive you. It's only admitting what you see. It's saying, "Nothing else to see here. Keep walking." So you see your problem with authority at work, but you don't see it in how you ignore city ordinances about your yard. You are aware of your selfishness in serving around the home, but you don't see it in your lack of financial generosity. You see how your fear of man has kept you from sharing the gospel, but you don't see how it has kept you from ministry in the church. You see how your anxiety has made you sick, but you don't see how it has led you to doubt God's goodness.
The sin that you do see is far more pervasive and extensive than you know. Your sin has roots throughout your heart. Sin deceives you.
Your Sin Deceives You About Its Seriousness
We downplay our sin. I don't believe that my sin is that serious. Yours probably is, but I've got mine under control.
Sin is always serious. Jesus had to die for it. God's wrath was justly applied to Jesus for your sin. That means that your light besetting sin is not something that doesn't matter. It does. And it's our familiarity with certain sins that probably leads us to downplay how severe they are. If there is an eternal penalty for it, it's not a mild thing. Sin hides in plain sight by pretending to be docile and meek when it's actually deadly.
Your sin wants you to think it's no big deal. Let it live a while longer. Play with it. No! John Owen was right when he said, "Be killing sin, or sin will be killing you." You need to kill it. It is serious.
Your Sin Deceives You About Its Effects or Consequences
This is an especially popular lie of sin in an age when we believe that our sin only affects us. If it's a private sin, then what harm is it actually doing? The young person soaking up pornography night after night doesn't see how it distorts his view of people. He no longer loves his neighbor, he only lusts after his neighbor. The husband who silently stews over offenses rather than yelling doesn't think that the silent treatment harms his family relationships, but it does. His wife and children live fearful and wondering why dad is so mad. Many marriages have seen a creeping distance develop because one or both spouses didn't think this or that sin was that important. They weren't relentless in killing sin.
And where sin most lies to us about its effects is in our relationship with God. Our sin pushes us away from intimacy with the One who created us.
If I had cherished iniquity in my heart, the Lord would not have listened. Psalm 66:18 (ESV)
Our sin lets us pretend that everything is fine with God when it is absolutely not fine. This is why some that quit attending church during Covid have said "I'm doing better spiritually now than I was when I was attending church." That's not possible (Heb 10:25), but sin is a deceiver. It makes you believe that your sin has had no effect on your closeness with God.
Your Sin Deceives You About Its Danger
This is where sin is most like playing with a wild animal. It's as if we're all playing with full grown tigers. Just because the tiger hasn't turned on us yet doesn't meant it's not dangerous. It doesn't mean it's not deadly.
The iniquities of the wicked ensnare him, and he is held fast in the cords of his sin. Prov 5:22 (ESV)
I've always imagined sewing thread being wrapped around us one strand at a time as a picture of Prov 5:22. Sure three, four, maybe even eight strands I can break. But even sewing thread wrapped around you enough times will bind you. That's the danger of sin. It lets you believe that you're in control while it slowly strangles you. When you finally realize it, it could be too late.
Jesus in his Sermon on the Mount said,
If your right eye causes you to sin, tear it out and throw it away. For it is better that you lose one of your members than that your whole body be thrown into hell. 30 And if your right hand causes you to sin, cut it off and throw it away. For it is better that you lose one of your members than that your whole body go into hell. Matthew 5:29–30 (ESV)
Your sin is so dangerous according to Jesus, that it requires radical steps to deal with it.
Your sin lies to you. And here's a prime example of its deception. It's when you read this entire blog, and you think of others that need to hear this. Not you. You don't need this, but that other Christian you're thinking of does.
Is there some sin that you've been playing with? Have you been deceived?
God wants you to be holy (1 Peter 1:14-16). Sin is serious. It's not a trifling matter. Put your sin to death. Kill it or it will kill you.